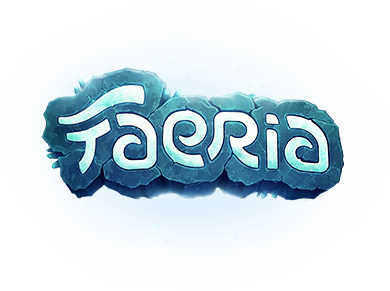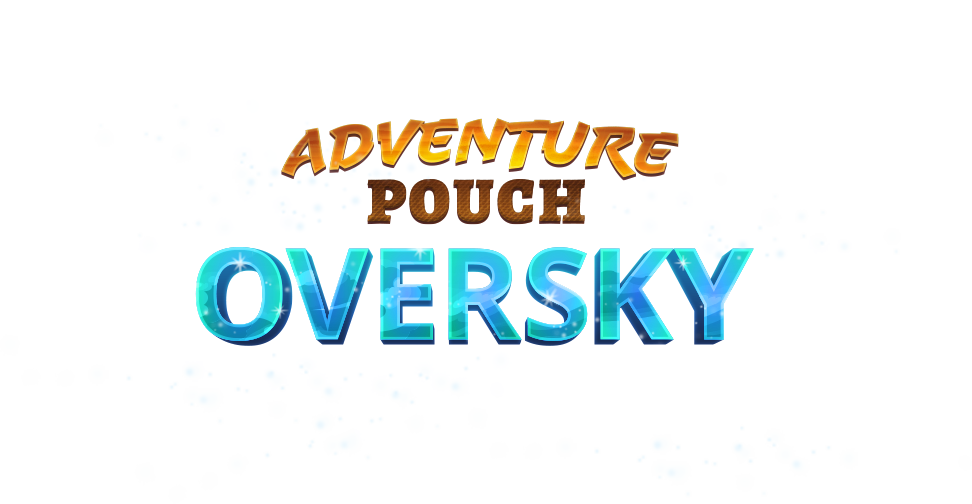 Explore the Oversky. Discover its treasures.
And work together to save the land from those who would destroy it!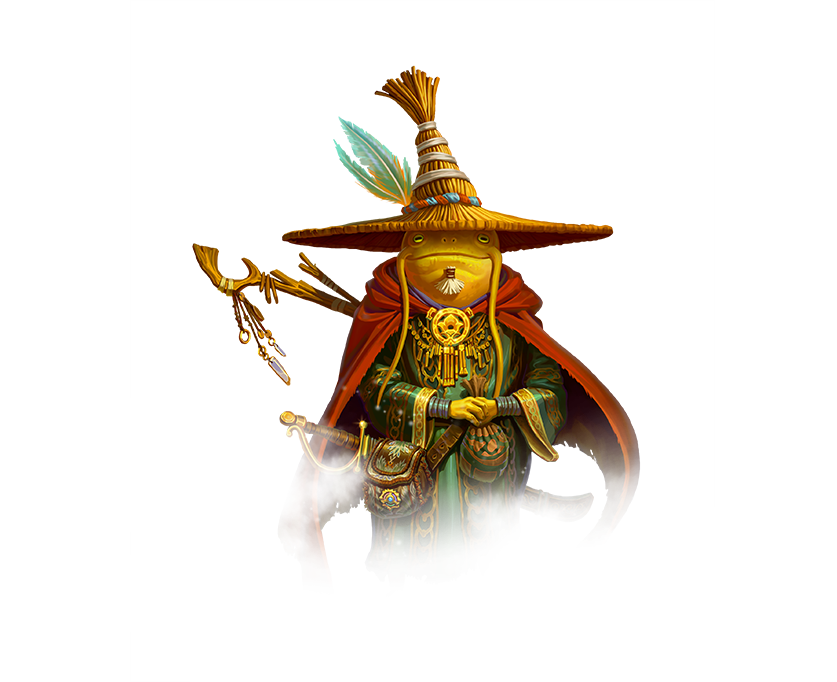 The Adventure begins
in the Oversky...
The Oversky is a series of floating islands that rests high above the clouds, far out of view from the average eye. Recently discovered, this tropical paradise is now under threat by the Emperor of Mirnast, Kaios, who seeks to strip the land of its resources and treasures. Your task, should you choose to accept it, is to join Fugoro and Sharra on an adventure to explore the Oversky and stop the Emperor at all costs. Along the way you'll encounter a variety of exotic creatures, fantastic treasures, and even a new race of furry inhabitants known as the Rakoa. Sail between the floating islands and collect over 30 cards along the way!

Find out more with
the Adventure Pouch Trailer!
The Adventure Pouch: Oversky
A special item that rewards you for exploring the Oversky!
Obtain the Adventure Pouch: Oversky and level it up for exclusive rewards. The Adventure Pouch: Oversky grants access to the Emperor's Daily Challenges, which will last until Monday October 9th.

LEVEL BONUS
Every 10 levels reached rewards you with:
A mythic copy of an Oversky card you own!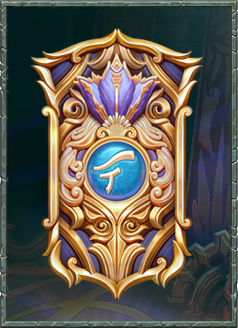 LEVEL 50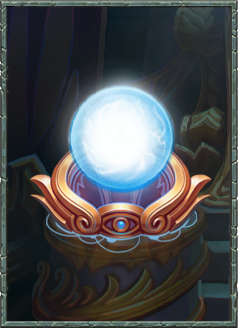 LEVEL 100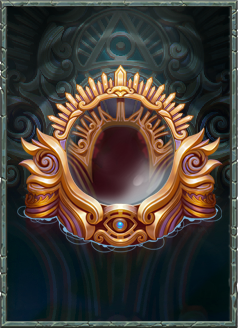 LEVEL 200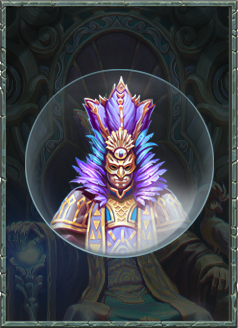 LEVEL 300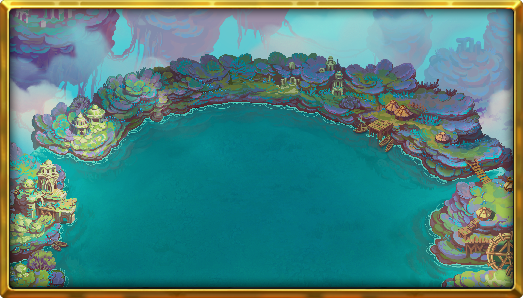 LEVEL 400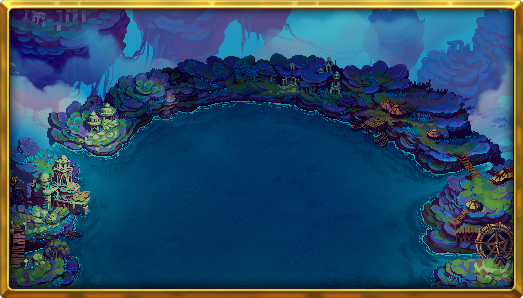 LEVEL 500

How to level-up your
Adventure Pouch: Oversky



Introducing Exciting New
Co-op Adventures
For the first time ever, join a friend to take on a powerful enemy at the same time in Co-op adventures!
You'll not want to go in alone. All missions in Oversky are Co-op missions. Carefully manage your shared health pool and work together with your allies to achieve a common goal. Use special cards that benefit both you and your ally to secure victory in the face of incredible odds.
Exploring the Oversky is all about teamwork.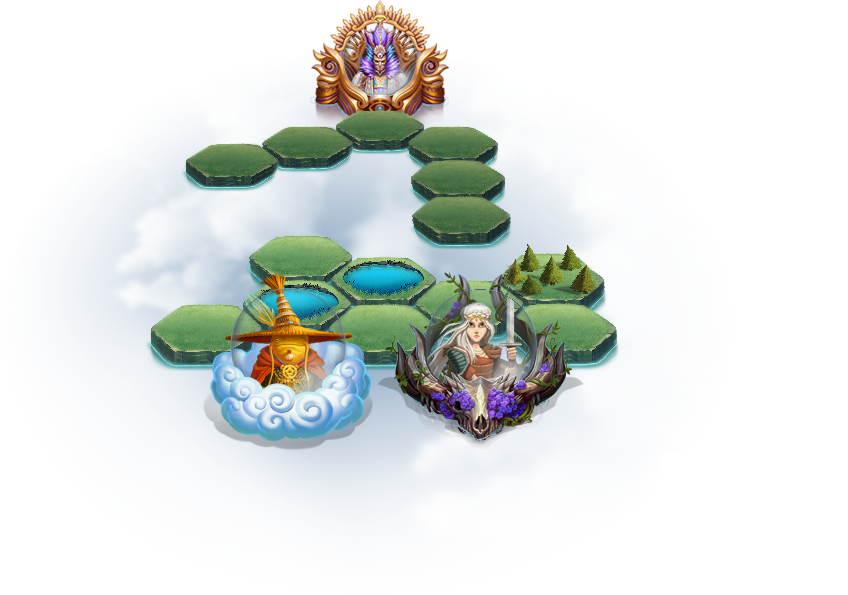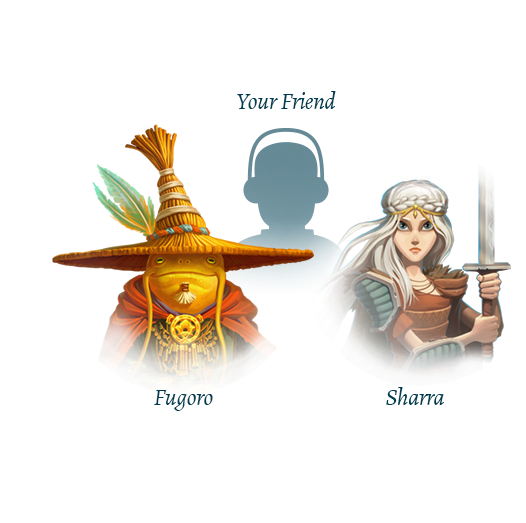 Choose your Legendary Ally
for your Co-op Journey
Bring a friend along, or unlock one of Faeria's most legendary heroes to assist you in your journey. You'll always have someone available to discover what lurks on the next island.
Sharra and Fugoro themselves are standing by to join you on your adventure!

Two different experiences
Faeria's Co-op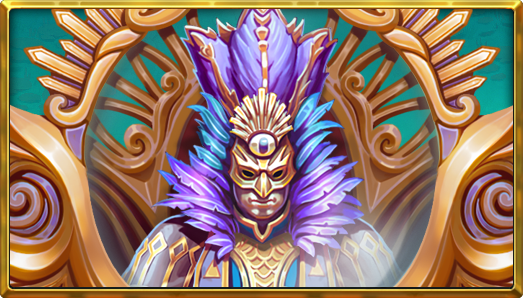 Emperor's Daily Challenges
For each proud owner of an Adventure Pouch, Kaios, the Emperor of Mirnast himself, has a new challenge for you every day. Bring a friend along and test your mettle against his series of Limited Boss Battles. Each time you defeat him your Adventure Pouch levels up!
Come back each day to see what new, devilish challenge he has prepared for you.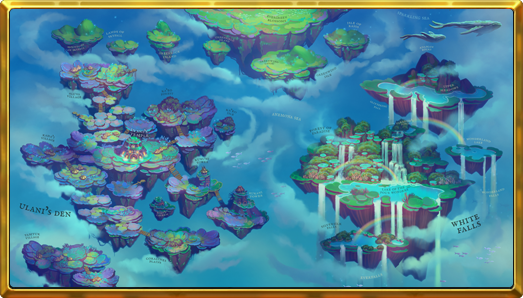 Dedicated Co-op Adventure
Explore the tropical, floating islands of the Oversky in a series of missions that progress in difficulty. Five brand new islands, each with its own unique set of missions and enemies, will introduce you to over 30 brand new cards with unique and exciting mechanics.

The Oversky brings you
33 Brand New Cards!
The Oversky's exotic creatures and treasures are at your disposal, should you choose to use them.
An entirely new set of cards eagerly await to be added to your decks! Use exciting new abilities from the lands of the Oversky, such as the ability to Swallow a creature whole.
The Oversky also introduces a brand new Wild land requirement which allows you to explore multi-color deck building in a way you've never experienced before.